Australian state of NSW records six new cases
Updated

Australia's health minister defends Australian Open proceeding
The Australian health minister, Greg Hunt, has backed the decision to proceed with the Australian Open in Melbourne, saying the Victorian state government has "taken appropriate steps" to ensure the safety of tennis tournament.
His comments follow the news that 47 players and 143 travellers have been confined to their rooms after a coach and a flight attendant on the charter flight from Los Angeles and one person on a flight from Abu Dhabi tested positive for Covid-19.
Speaking in Melbourne on Sunday Hunt said the Victorian government was "monitoring and setting the terms and conditions for those that are arriving".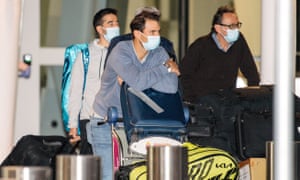 "They have a pre-screening process. They have a subsequent quarantine process. And this is what we're doing as a country with all of our international arrivals – so we respect that process. We respect the steps they're taking and also the way that they've responded. We think that that's appropriate."
When pressed on whether it was the right thing to host the Australian Open at the current time, Hunt said:
"With regards to the Australian Open, we respect not only the right, but also the processes of particular states to screen, to monitor and to conduct events – whether it's the Melbourne Test, the Sydney Test, the Brisbane Test and the Adelaide Test, whether it is the current event, which the Victorian government has been planning. And we think that they have taken appropriate steps."
But Hunt argued the federal government's priority had been to bring stranded Australians home. Despite the recent reduction in flight arrival caps, and the decision by Emirates to suspend flights to Australia, he pointed to the government's announcement on Saturday of 20 additional facilitated flights for returning Australians.
Updated