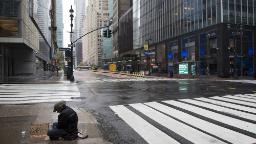 More than a decade is how long it could take the world's poorest to recover, according to Oxfam International's
annual inequality report
.
The report, released on Sunday ahead of the World Economic Forum's virtual meeting of political and financial leaders, typically held in Davos, Switzerland, lays out the virus' disparate impact around the globe. The pandemic could
increase economic inequality
in almost every country at once, the first time this has happened, Oxfam found.
"We stand to witness the greatest rise in inequality since records began. The deep divide between the rich and poor is proving as deadly as the virus," said Gabriela Bucher, Oxfam's executive director. "Rigged economies are funneling wealth to a rich elite who are riding out the pandemic in luxury, while those on the
front line of the pandemic
— shop assistants, health care workers, and market vendors — are struggling to pay the bills and put food on the table."
The coronavirus, which has infected nearly 100 million people and killed more than 2.1 million globally, has thrust inequality into the spotlight. How people cope has differed
by race,
by gender
and
by income
.
But the number of people living in poverty globally could have increased by up to 500 million last year, according to a UN University World Institute for Development Economics Research paper that Oxfam cited.
To fight this growing inequality, governments should ensure that everyone has access to a Covid-19 vaccine and financial support if they lose their jobs, Bucher said. Also, this is the time for longer-term investments in public services and low-carbon sectors to create millions of jobs and ensure everyone has access to education, health care and social care, she said.
"These measures must not be Band-Aid solutions for desperate times, but a 'new normal' in economies that work for the benefit of all people, not just the privileged few," Bucher said.