It really is dispiriting the see the utter contempt Nicola Sturgeon holds the independence movement in, if this is the level of utterly insulting garbage she thinks it'll swallow.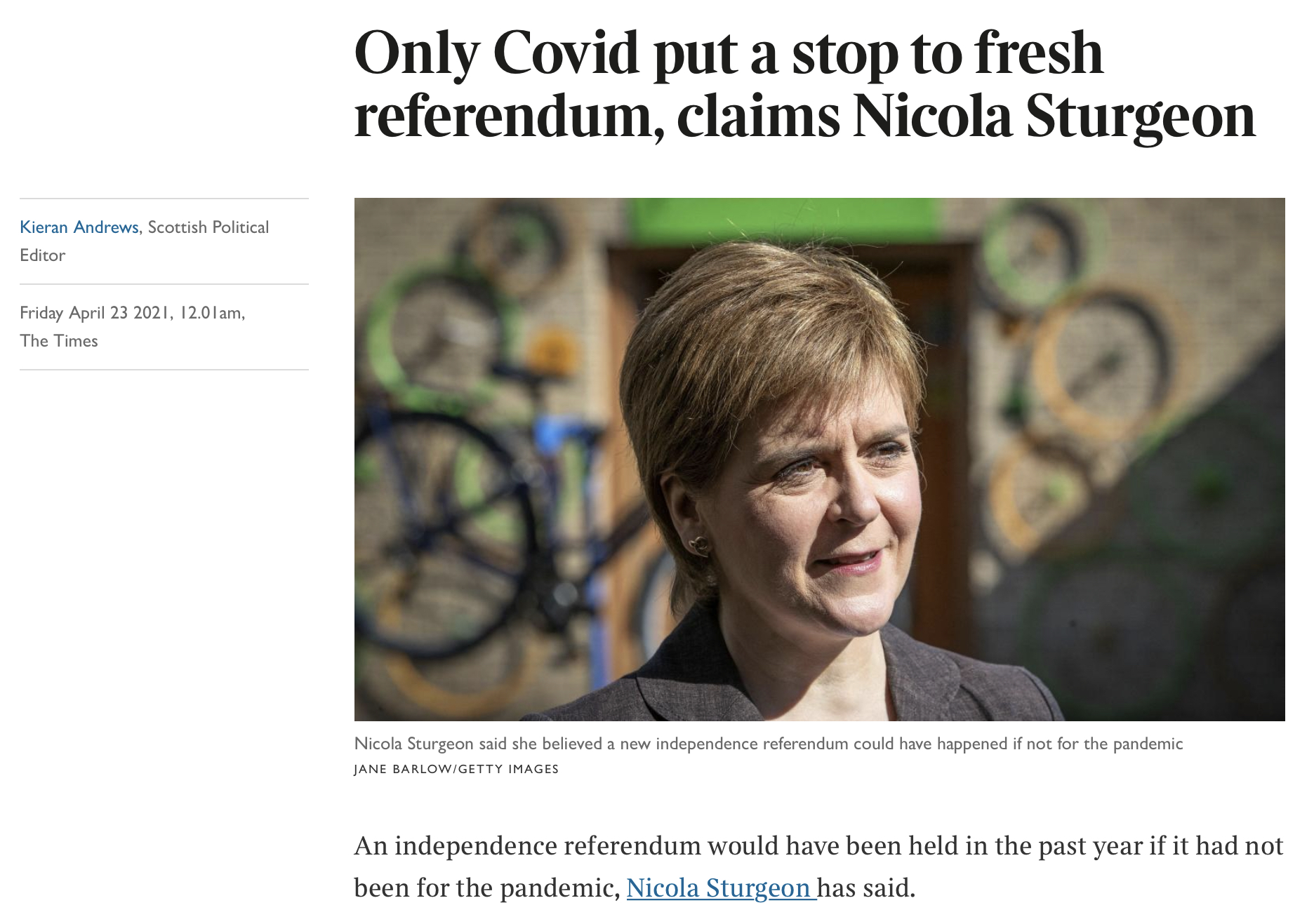 Who told us it's garbage? Nicola Sturgeon did.
Because when the First Minister made her infamous "Betrayer" speech 15 months ago – weeks before there was any serious suggestion of COVID-19 in the UK – she already knew a 2020 referendum was a complete practical impossibility.
Let's look at what she said that day.
Not a single one of the steps above has actually been taken. But what if they had?
(1) THE ELECTORAL COMMISSION TESTING THE QUESTION
There's actually no reason this couldn't have happened. The Electoral Commission has no role to play in fighting the coronavirus, so it could perfectly well have carried on with revising the prospective indyref question if it had been asked to.
At its meeting in mid-March 2020 it in fact said it couldn't have done so, because of the difficulty of organising focus groups during the pandemic – which was at that point in its very early stages – but this is a nonsense. Focus groups generally encompass a couple of dozen people at most, and far larger gatherings than that have taken place digitally during lockdown via platforms like Zoom, including party conferences with attendances in thousands.
But that became a moot point just days later, when the Scottish Government asked the Electoral Commission NOT to go ahead.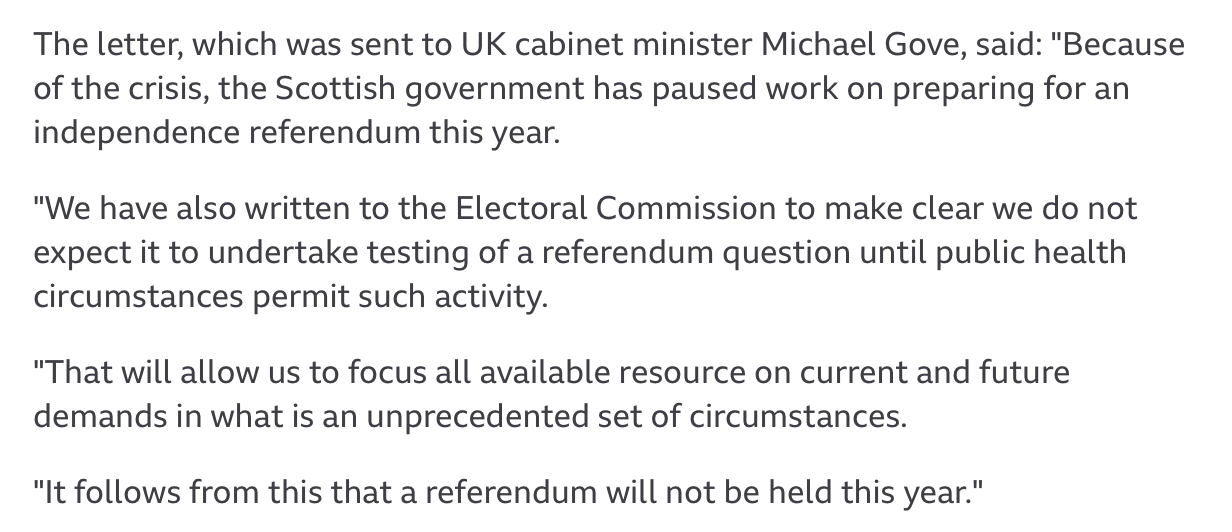 But what if it had? We already know the sort of timescale that would have been involved, because the Electoral Commission had told the Scottish Parliament in August 2019 that a minimum of a year would be required between it being asked to test the question and any referendum taking place – 12 weeks to test the question, then six more months before the start of the regulated referendum period, which is a minimum of another three months.

(In the 2014 referendum it ran from 30 May to 18 September.)
So we know for a fact that when Nicola Sturgeon asked the EC in February 2020 to retest the question, she was eliminating any possibility of a referendum that year, because even without COVID that one process alone would have bumped the date into the spring of 2021 at the absolute minimum.
And of course, realistically it would have been far longer than that, because she didn't, and still doesn't, have a Section 30 order from the UK government permitting the referendum to happen at all – something she made clear in the "Betrayer" speech was a necessity.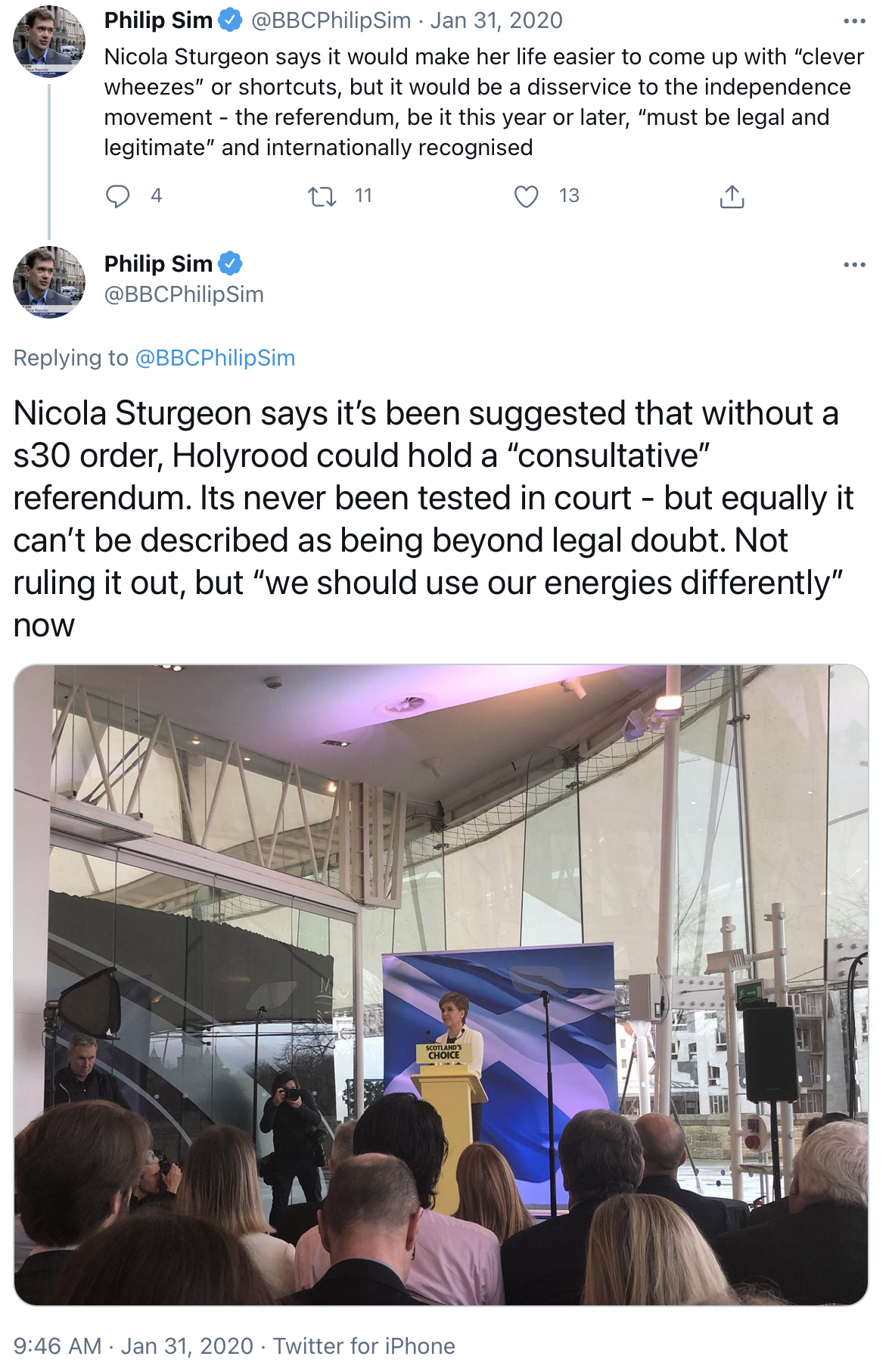 But of course she was hoping to achieve that with her genius second move.
(2) SET UP A NEW CONSTITUTIONAL CONVENTION
The first Scottish Constitutional Convention took six and a half years from its first meeting in March 1989 to its final report in November 1995. (It would be another year and a half before it actually delivered the devolution referendum.) It's extremely silly to imagine that a second one could have been completed in under (say) six months, even if it had been running in parallel with the Electoral Commission's testing of the question and the EC's 12-month timetable had been able to have been shortened in some way.
(All of this, assumes, that such a convention would have had Unionist participation, without which it would have had no credibility.)
So that would have taken us into autumn of 2020, which added to the three-month minimum campaign period again would have made a 2020 referendum simply arithmetically impossible.
(3) PUBLISHING A SERIES OF PAPERS
We know, of course, that these papers were imaginary in January 2020, and are still imaginary now. The SNP had had absolutely nobody working on the case for independence for several years.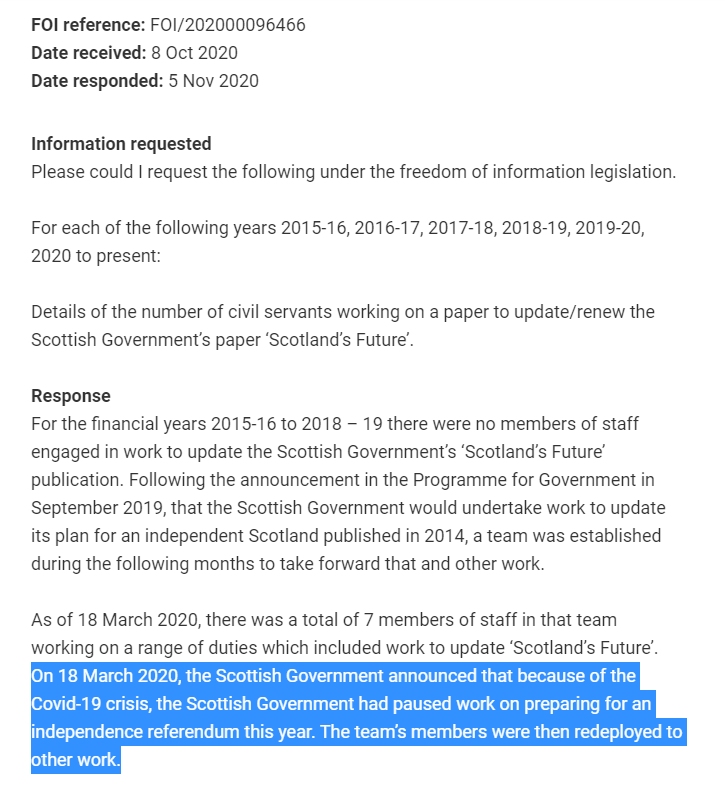 In September 2019 they set up a short-lived seven-person team to finally do some work on the case, but it was disbanded six months later having produced nothing. We can only speculate as to how long it would have taken to produce "a series of papers" if it hadn't been abandoned due to COVID, but again it seems fanciful – at the very least – to imagine any significant body of work arriving before the end of 2020.
So for at least three entirely separate reasons – any one of which was wholly compelling in its own right – Nicola Sturgeon knew full well in January 2020 that there was absolutely no chance of a second independence referendum happening in 2020.
It was a fairly substantial insult to the intelligence to claim otherwise at the time. (Indeed, it provoked Wings to take a three-month holiday in disgust, even though we could have used the speech to pretend everything was fine and run our usual annual fundraiser.)
To attempt to do so in hindsight now, when all these facts are clear and obvious to everyone, easily crosses the line into absolute contempt.
Readers, you are being taken for fools.